Saying goodbye to someone is usually not easy, especially if they have been part of your everyday life for decades.
This is more true for us police officers who stake our lives almost every time we're on duty.
That's why fellow officers often organize farewell parties to celebrate their years of service to law enforcement.
In addition, we often consider thoughtful retirement gifts to convey more appreciation.
If you're unsure which police officer retirement gifts are worth your hard-earned money, below are some great ideas.
Comparison Chart
6 Expensive (More Than $100) Retirement Gifts for Police Officers
1. Prestige Decanters Globe Decanter With Law Enforcement Badge
If you're looking for hand-crafted gift ideas for any occasion, you might want to check out what Prestige Decanters offers.
It is one of the excellent police retirement gifts if you're not worried about the price.
Review
The Prestige Decanters Globe Decanter With Law Enforcement Badge's hand-blown glass and stopper with an etched globe design provides a durable seal that can last a lifetime.
Also, Kentucky-based artisans used solid oak as the wooden display base to ensure optimal balance and sturdiness.
You also don't have to spend on wrapping as the packaging of this product is a fantastic gift box on its own.
The police badge design highlights the law enforcement appeal of this excellent gift option.
Besides an ideal choice for an appreciation gift, the company pledges that it will plant one tree for every purchase of its decanters.
Pros:
Lead-free decanter
Appropriate size
Reasonable weight
Cons:
Limited stocks
Wood finishing quality could be better
2. Relic Wood Thin Blue Line Memory Box
Not all items accumulated during years of service are meant to be on display.
That's why this gift option is a great way to express your gratitude to someone who has a decorative career in law enforcement.
Review
The rustic finishing of the box provides a pleasing aesthetic and symbolizes the decades dedicated to serving the public.
A blue stripe flag is featured on the top as a symbol of support for law enforcement.
You may add a custom brass nameplate if you prefer a more personal touch.
Pros:
Excellent craftsmanship
Outstanding customer service
Well-constructed
Cons:
Blue line could be more visible
No locking mechanism
3. NewWorldEngraving Beautiful Personalized Clock For Retirement Gift
For a sophisticated and memorable gift, this customizable clock from NewWorldEngraving is worth a look.
Review
The Rosewood piano finishing applied to the clock ensures that your message is highlighted in a beautiful, elegant manner.
You may include up to ten lines of text for engraving, which may be more than enough to immortalize your heartfelt appreciation.
Pros:
Color options available
Ideal font type and size
Battery included
Con:
4. Henckels Modernist 13-pc, Knife Block Set
It's never too late to start a new hobby after dealing with years of utmost dedication to your sworn duty.
Cooking can be a fun activity for a retiring police officer, and having a good set of knives will only improve the experience.
Review
The full tang design of the knives ensures you have more control and precision, which makes it safer and easier to maneuver the blade.
Expect long-lasting sharpness as the blades are honed finely, whether you're cutting soft vegetables or hard carcasses.
Pros:
Ergonomic handle
Easy to clean
Durable stainless steel material
Cons:
Block construction could be better
All knives serrated
5. Zwilling Twin Signature 19-Piece Knife Block Set
Zwilling offers several quality kitchen items and a few grooming tools for those who prefer practical gifts for coworkers.
While it can be a pricey farewell gift for a retiring cop, this knife block set is sure to please anyone who receives it.
Review
All of the knives of the Zwilling Twin Signature 19-Piece Set have a Rockwell Hardness rating of 57, which means they have excellent edge retention.
You can expect superior quality as the company is one of the leading German knife manufacturers in the world.
Meal preparation is made easier with the help of these knives, thanks to the ergonomic design of their handles.
The full tang construction of the Zwilling knives provides exceptional balance and control.
Pros:
Long service life
Razor-sharp edges
Lightweight
Cons:
Knife block quality is not ideal
Cleaning can be difficult
6. Subvet Customs Natural Color Rustic Wood American Flag
The Arkansas-based woodworking Subvet Customs provides high-quality crafted items from various hardwood species.
One of the contenders for the perfect retirement gift for police officers is their Natural Color Rustic Wood American Flag.
This product's numerous qualities make the item one of the coolest gifts you may give only to veterans and retired officers in law enforcement.
Review
The design quality of the 3D wooden stars provides a distinctive and appealing aesthetic.
This piece of Americana art also offers a unique look because each copy is individually-made and has varying grain, color, and imaging.
Additionally, mounting the item is effortless due to the D-rings and hanging wire on the back.
Subvet Customs ensures this classical gift idea will retain its qualities for a long time because of the satin topcoat.
The seller can also accommodate extra details attached to the surface if you want a more personalized custom sign.
Pros:
Custom size available
Durable
Veteran-made
Cons:
Photo and actual item may vary
Rustic quality needs improvement
6 Mid-Priced (From $50 to $100) Retirement Gifts for Police Officers
1. Personalized Employee Retirement Appreciation Award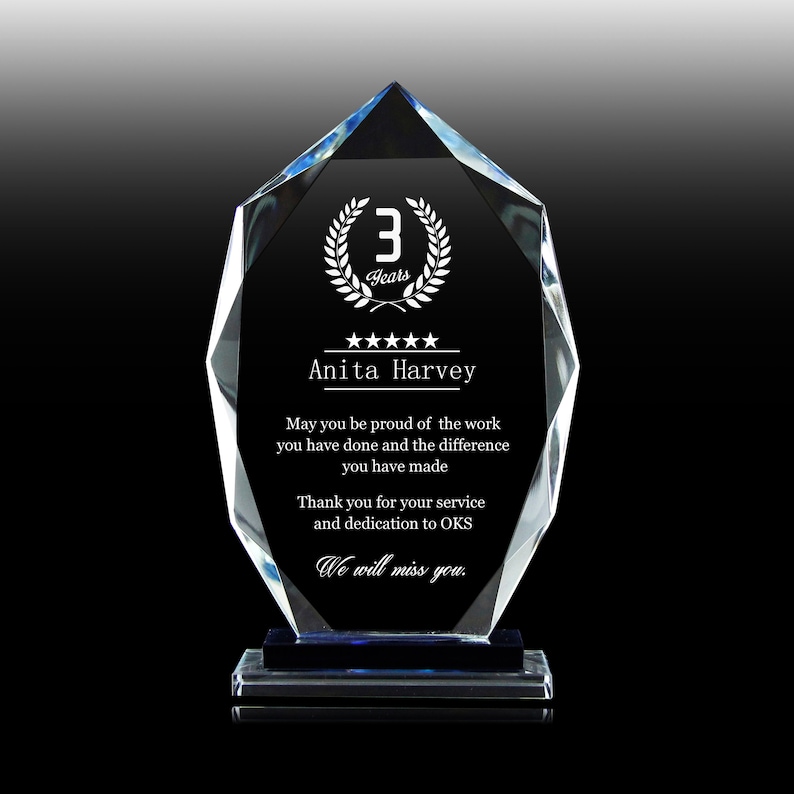 It's not always that a police department issues a plaque of appreciation to retiring police officers.
If that's the case, this decorative plaque with custom engravings can be the perfect gift for your comrade.
Review
As one of the most fitting police retirement gift ideas, the Personalized Employee Retirement Appreciation Award has several distinct qualities worthy of consideration.
First, the seller offers four designs, and if you're unsatisfied with the default options, you can submit custom-made ones.
Its nonagon glass construction also offers an elegant aspect to the plaque, which adds sophistication and class.
Lastly, the material consistency makes it one of the best options for desktop plaques.
Pros:
Great customer service
High-quality engraving
Generous character limit
Cons:
More susceptible to damages
Packaging needs improvement
2. Veronese Design Police Woman to Protect and Serve Police Officer Tribute Statue
This is one of the unique appreciation gift ideas you may consider for a retiring female police officer.
Review
The statue features a cold-cast bronze material that provides a high-quality, distinct metal appearance.
Craftsmanship is arguably the most notable aspect of this statue, thanks to its fine, realistic details from the base to the cap.
Pros:
Ideal item weight
Respectable pose
Solid base
Con:
May look larger in photos
3. A Charmed Impression Enjoy the Next Chapter 925 Sterling Silver
Gifting jewelry doesn't have to be expensive for you to express your appreciation.
These silver earrings are made for a special person who is opening a new chapter in life.
Review
Because of the high-quality materials and excellent craftsmanship, the earrings won't irritate the ears like the other cheaply-made ones.
The design features a sun and two mountain summits that symbolizes a new beginning.
It's not too on the nose as a retirement gift, meaning it's applicable for a number of occasions like promotion, new job, or moving out.
Pros:
Outstanding customer service
Excellent durability
Easy to put on
Cons:
Packaging material not ideal
Looks dainty
4. YJGS Whiskey Decanter & Whiskey Glasses Set
A decanter is among the most popular law enforcement retirement gifts for whiskey lovers.
YJGS offers a set that includes one decanter with two glasses at an affordable price.
Review
While it's not a unique idea for police gifts, the recipient will have a better experience reminiscing fun memories because of its features.
The level of clarity allows the item to accommodate any liquor of your choice without losing style or sophistication.
It also exhibits classic wedge and diamond cuts that provide a timeless design element to the glass set.
The patriotic element of this decanter set is prominently displayed as the American flag and "We The People" etched on all pieces.
You can also see the Declaration of Independence text on the whiskey glass.
Pros:
Lead-free glass
Premium finishing
Dishwasher-safe
Safe packaging
Cons:
Decanter size not ideal
Print quality could be better
5. Tuffen Electric Heated Blanket
While a memorable appreciation gift is more appropriate, going for functionality isn't too bad.
The Tuffen Electric Heated Blanket is a convenient item for any retired or active duty officer because of its qualities.
Review
You can use this blanket for almost every winter occasion, like family-friendly games, traveling with fellow officers, or weekly poker night.
You'll enjoy this blanket's relaxing comfort and softness, attributed to its high-quality double-sided flannel.
Additionally, the ten heating levels ensure you'll experience the warmth that fits your preferences.
Safety is also one of the highlights of the Tuffen Electric Heated Blanket, as it includes overheat protection with auto-off after eight hours.
Pros:
Multi-year warranty
Excellent heat distribution
FCC & ETL-certified
Ideal cord length
Cons:
No additional colors available
Slightly heavier than others
6. Keemake 8" Damascus Steel Chef Knife
Selecting a multi-purpose chef knife as a farewell gift is not unusual.
It's one of the more thoughtful gift ideas for women and men because of its practical uses.
Review
The aesthetic and material qualities of this Keemake chef knife make it one of the best pieces of kitchenware you can have.
Thanks to exceptional production techniques and impeccable craftsmanship, the knife is designed to provide precise and smooth cuts every time.
Since the blade is mirror-polished and hand-honed, the edge retention is nothing short of excellent.
It provides enhanced stability and control due to the handle's material construction and ergonomic design.
Also, the hammered finish design reduces the knife's tendency to be sticky after use.
Pros:
Sharp out of the box
Ideal weight
Great value for money
Cons:
Sheath not included
Packaging design could be better
7 Low-Priced (Up to $50) Retirement Gifts for Police Officers
1. Onebttl Retired Not My Problem Anymore Tumbler
A tumbler with a funny message might seem like it isn't the ideal retirement gift, but it will put a smile on your recipient.
Review
It comes with a straw, greeting card, and a cleaning brush that elevates the item's overall quality.
The rust-resistant properties and food-grade steel material of this coffee tumbler ensure optimal safety and durability.
Pros:
Excellent packaging
Well-insulated exterior
Spill-proof
Cons:
Print on one side only
No handle
2. Got You A Little Something Retired Police Officer 2022 Lavender Scented Candle
This special scented candle intended for retired police officers might be the best option if you prefer a perfect gift that won't hurt your budget.
Review
For a fun and lasting aromatherapy experience, the Retired Police Officer 2022 Lavender Scented Candle uses authentic, premium essential oils.
Natural soy wax is this item's main component, providing a clean burn free from toxic elements.
It also has a cotton-braided wick made from natural components that nicely complements the soy wax composition.
You'll also notice a funny note under the item name on the label.
Pros:
Reusable glass jar
Refunds allowed without item return
Long burn time
Cons:
Box sturdiness can be better
Limited stocks
3. Younique Designs Goodbye Tension Hello Pension Mug
Nothing defines retirement benefits more than the pension. That's why this mug is one of the funny and creative ideas for gifts.
Review
To ensure maximum readability, the mug features a vivid, large-sized, and bold font.
Cleaning should be an afterthought as the item is made to be dishwasher-safe.
Pros:
Microwaveable
Lightweight
Print available on both sides
Con:
4. Funatic Happily Retired Not My Problem Anymore Dress Socks
Clothing can be a bit tricky to give because of potential sizing issues.
That won't be an issue with these socks as they are made to fit most men and women.
Review
A funny message about retirement is prominently featured on the socks with stylish details.
With these qualities, they can be a perfect gift for any retired employee in law enforcement and beyond.
The excellent breathability of the socks ensures you'll have a comfortable relaxing experience even during warm seasons.
Pros:
Well-defined graphics
Vivid design
Easy to wash
Cons:
Packaging could be better
No other color schemes
5. Wood Therapy Massage Tools
This is a fitting gift for retiring law enforcement officers with sustained lingering body pains because of their decades of dedication.
With its natural components and smooth surface coating, this item will provide a relaxing, comfortable experience for your skin.
Review
These tools are designed to loosen tight muscles and keep the skin firm, which may alleviate body pains.
A significant reduction of cellulite and toxins in the lymphatic system is one of the outcomes if you constantly use this massage kit.
The tools are also easy to carry around, meaning you can bring them at work, on transport, or in just about any location.
Pros:
Durable
Smooth-rotating wheels
Ergonomic design
Cons:
Lacks manufacturer information
Packaging not specified
6. Cozy Gifts Personalized Blanket for Police Officer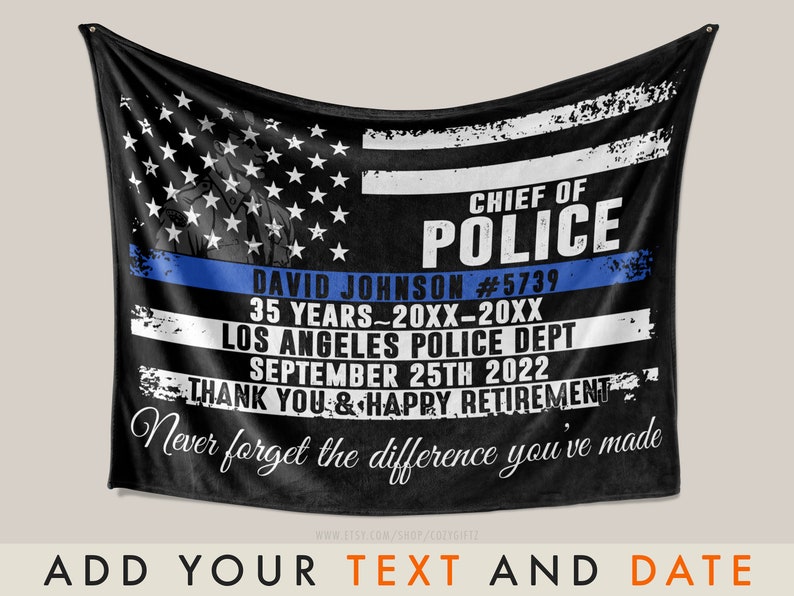 One of the items we can't do without is a good, old-fashioned blanket.
You may give a more lasting impression to your recipient if you opt for a police-themed blanket with a custom message.
Review
The blanket material ensures your recipient will experience a warm, more comfortable feel during sleep.
No expense is spared as full color is applied all over the print, covering most of the blanket.
It features an awesome sign that you can put a personalized message for a more defined look.
Pros:
Bed sizes available
Multiple material options
Exceptional customer service
Cons:
Cleaning can be cumbersome
Print sensitive to heat
7. LiliWair Old Lives Matter Beer Glass
Inspired by today's social climate, this beer glass puts a positive and funny spin on the name of a controversial organization.
The LiliWair Old Lives Matter Beer Glass offers a fun poke at police officers entering a new phase of their lives.
Review
This beer glass is a perfect retirement party decoration or beverageware that the attendees will surely notice.
The imprint is designed to last and be dishwasher-safe and lead-free for optimal safety.
You won't see the print fade easily as the manufacturer used a scratch-resistant coating to slow down the effects of wear and tear.
Pros:
Superior glass quality
Multi-functional
Printed in the USA
Cons:
Print not double-sided
Unimpressive packaging
Which Among the Options Should You Pick?
The Prestige Decanters Globe Decanter With Law Enforcement Badge is our pick for the best retirement gifts for police officers.
It has sufficient aesthetic qualities and functionalities anyone can appreciate, especially those who developed their skills to uphold law and order appropriately.
If you don't want to spend too much, the Keemake 8" Damascus Steel Chef Knife should be your top choice.
The overall blade quality and material construction are comparable to other high-end, premium knives on the market.
Lastly, you should consider getting the LiliWair Old Lives Matter Beer Glass if you're on a tight budget.
This item is funny yet functional, which retiring police officers will appreciate.
Still searching for the perfect gift? Explore our extensive guide, where you'll find an abundance of lists dedicated to gifts for police officers.